For a great deal more information on what performance options I have available, please visit my Norfolk Wedding Guitarist website, at which you can read many kind comments and reviews on the reviews page.
I am extremely busy playing many different styles of music. I play at many weddings and corporate functions either as a solo guitarist on my BJH seven string guitar, or in many other lineups. I also play public gigs, so if you would like to come and see me live, please follow me on Facebook, Twitter or Google+ to keep up to date with when and where I am performing. My public gigs are also listed on the following page:
Solo Guitar
I have been playing solo guitar for many years. The addition of the 7th string on the BJH guitar that I play gives a much bigger sound than with a normal 6 string guitar. I tend to play more background music when playing solo which is perfect to accompany a meal at a Wedding or in a restaurant. With a large repertoire of varied material, I will create a full, rich sound that will set the mood and add a touch of class. Expect to hear arrangements of well known pop and rock songs, jazz classics, classical guitar pieces, country, blues and even some flamenco inspired tunes. To hear examples of my solo guitar work, I have some demos on my YouTube channel.
---
Claire Barker and I play together regularly in both the Claire Barker Band and our duo: The Claire Barker and Paul Hill Duo. We have a huge repertoire and play everything from jazz standards to 80's rock classics and everything in between. Our duo is perfect for weddings and corporate events, although we also enjoy performing at public venues. To find out when and where we are playing next, please follow us on Facebook.
---
Jazz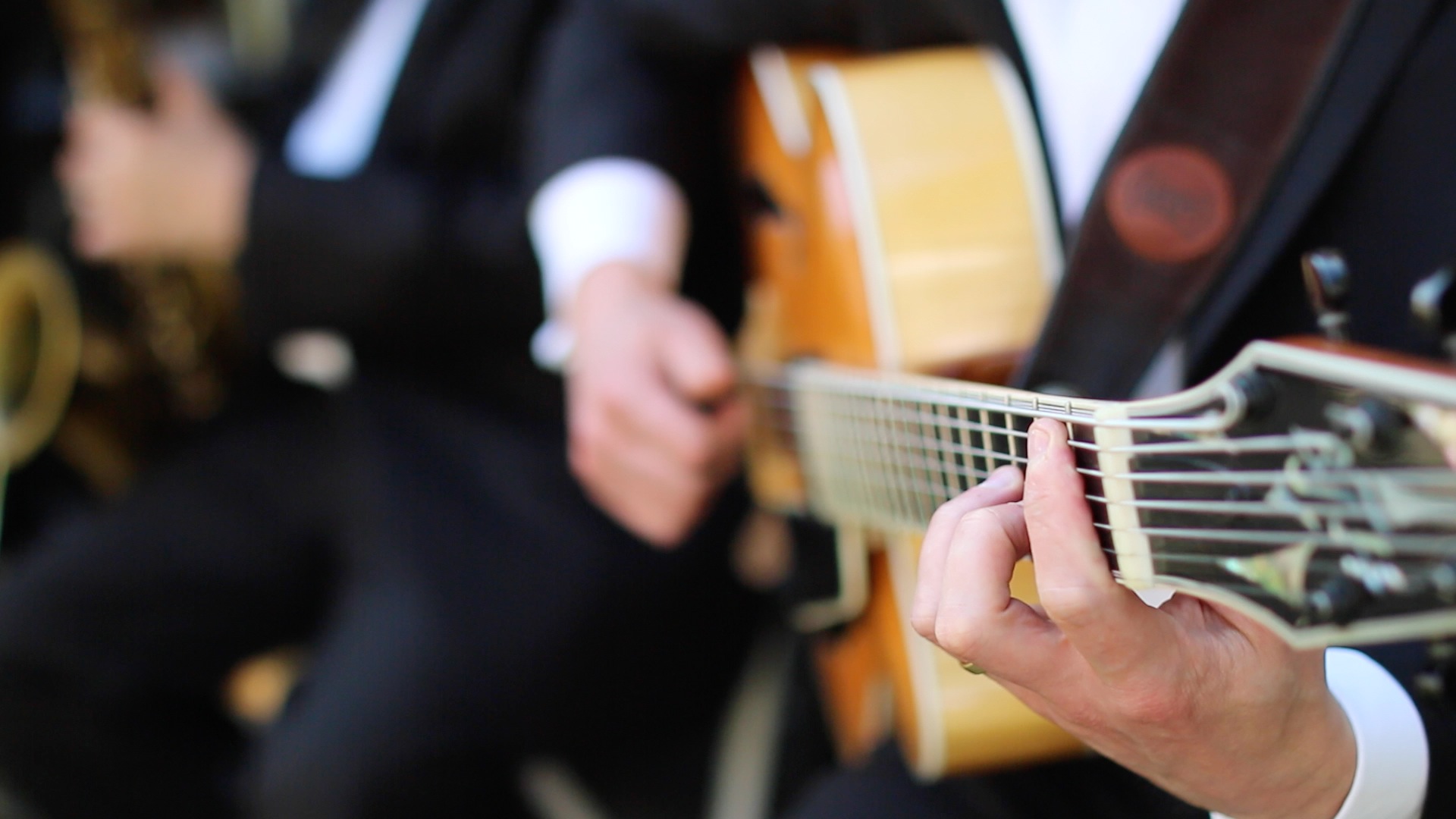 I have played jazz for many years and I have been fortunate to have played with some incredible musicians. Whether playing in an instrumental duo, trio, quartet or larger ensemble, it is always very rewarding having great musicians with whom I can improvise a musical conversation.
I often perform at jazz clubs with my own trio or quartet and jazz enthusiasts always make for an appreciative audience. I can also provide an exceptional jazz line up to perfectly accompany weddings, dinner parties, corporate events, civil ceremonies, garden parties and more.
Guitarist available to hire
Over the years, I have played in many shows, worked in studios, given seminars at major educational institutions, taught live on BBC radio, played in countless rock bands, played in theatres up and down the country and played at international Jazz festivals. I am also a proficient sight reader. If you need a dep or require a guitarist for any other playing or recording jobs, feel free to get in touch!